Cover versions of familiar songs always present artists with a challenge.
Should they stick, and remain faithful to the original?
Or should they twist, and try to re-imagine it in some way?
This dilemma becomes especially interesting with a tribute album like Physical Graffiti Redrawn, issued with the latest edition of Mojo, celebrating the 40

th

anniversary of Zeppelin's classic double album.

How do you go about re-tooling songs like these?

How much of the structure do you retain?

Are there segments you feel comfortable jettisoning or re-working without confounding the listener's expectations?

Happily, while some of the efforts on show here work better than others, none are real duds – and some even manage to reveal more about the originals.
Miraculous Mule - getting radical

White Denim and Blackberry Smoke open the proceedings with satisfactorily straightforward versions of 'Custard Pie' and 'The Rover', largely confining themselves to a few curve balls here and there, and then some experimentation in 'outro' territory.

White Denim throw some different sonic effects into the mix, while Smoke extend proceedings to allow for some guitar harmonies and duelling.
Some of the most interesting readings are more radical though.

Londoners Miraculous Mule (pictured left) take a pair of shears to 'In My Time Of Dying' for example, lopping off half its length.

The Mules capture the core of the original in just three minutes, eschewing the languid slide and repetitions of the original in favour of their own atmospheric intro, followed by pounding riffs alternating with thrumming energy.

Then they top it off with a closing section that reflects their own fascination with gospel and work songs, expressing their own personality without being self-indulgent.
Son Little (pictured below) goes even further, with a genre-switching, de-funked 'Trampled Under Foot', re-styled as a slowed-down and sultry slice of soul.

The Philadelphian has some voice, and uses it to scorching effect here, conjuring up a slow burning, up close and personal seduction.

It may not be out and out blues, but it's enough to suggest a listen to his 2014 EP, 'Things I Forgot' may be warranted.
Malian combo Songhoy Blues tackle the mountain that is 'Kashmir', and if there's not much they can do to break free of those byzantine riffs, they still manage to get on top of the song, partly by toning down the instrumentation to their fuzzy, desert blues style, and partly by playing a Joker - an entirely new vocal delivered in their native tongue rather than English!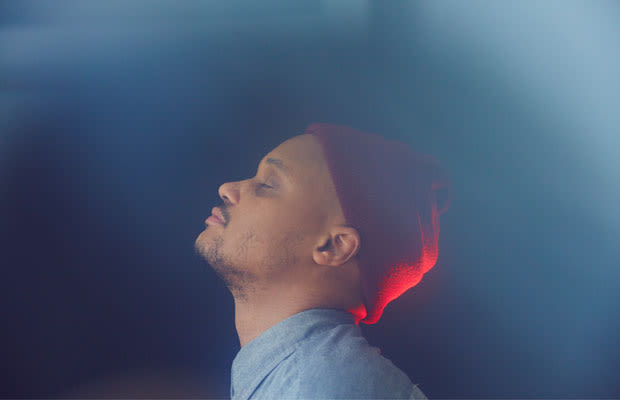 Son Little, aka Aaron Livingston
If those are the highlights, the second half of the album takes an interesting turn, as several contributors opt for a wistful, sometimes introspective approach that fits the material like a glove.

Max Jury delivers a lilting 'Down By The Seaside' with tasteful rolling piano, even more delicate than the original.

Rose Windows introduce a flute part into some hazy, jazzy passages in 'The Wanton Song', albeit also letting rip with a squally, fuzzed up guitar break.

And Hiss Golden Messenger take a sunny, Californian troubadour tack on 'Black Country Woman'.

Heck, even Duke Garwood, whose latest album I slated here recently, does a good job on 'Night Flight':

a clacking rhythm evokes a slow train rolling through the night, to which he adds rumbling, moody guitar.

I've often thought there's something a little bit downbeat to the tail end of Physical Graffiti, and these versions underscore that thought.
Oh yes, and there's a crisp, witty little take on 'Boogie With Stu' from Kitty, Daisy and Lewis.

Often regarded as the ugly duckling of the album, here it's translated to guitar, and leavened with a nod to the clavinet phrase from 'Trampled Under Foot'.
As these kinds of classic album reboots go, Physically Graffiti Redrawn is about as good as it gets.

Credit to Mojo for putting it together.